James Burn International, the inventor of the Original Wire-O® double loop binding system, introduces a patented revolutionary packaging concept, the Wire-O® FLEX.
With Wire-O® FLEX,
No more tangled spools due to bad handling or rough transport,
No more scraped loops as a result of spool changes,
Simplified storage,
Ultra quick and easy set up,
Reduced machine stops or downtime,
Reduced waste management cost : no more flanges, tubes, cups to dismantle, separate and store before being scrapped.
Wire-O® FLEX is available in two types of packaging. It is protected in a high density PE film and can't tangle.
For large users, it is available in large boxes for 2:1 sizes (5/8″, 3/4″, 7/8″ & 1″) which contain approximately 3 times more loops than standard spools of equivalent sizes. This Wire-O® FLEX  packaging is the perfect solution for those of our customers looking for cost effective solutions to increase their production efficiency. It provides 5 to 10% productivity gain pending on wire size, especially when high speed in line binding machines are being used. Wire-O® FLEX  can be run on most automatic wire binding machines and not just JBI machines.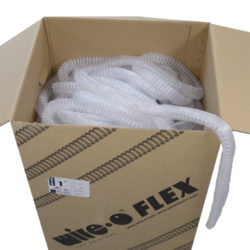 | | |
| --- | --- |
| Wire-O® sizes | Loopage / box |
| 5/8″ | 32,000 lps |
| 3/4″ | 26,000 lps |
| 7/8″ | 21,000 lps |
| 1″ | 16,000 lps |
| | |
Wire-O® FLEX MINI boxes are especially designed to be used with our Wob MINI semi automatic wire binding machine. It is meant for digital copy centre environment and customers that want to automate their production of Wire-O® bound documents but have not got the volumes or the space to justify using traditional spools. Storage is simplified and handling precautions are minimised. They are exclusively available in 3:1 sizes from 1/4″ to 9/16″ and in BK & WH colours.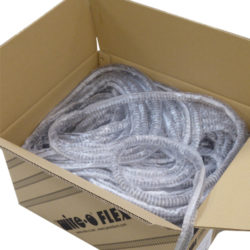 | | |
| --- | --- |
| Wire-O® sizes | Loopage / box |
| 1/4″ | 26,000 lps |
| 5/16″ | 19,000 lps |
| 3/8″ | 16,000 lps |
| 7/16″ | 16,000 lps |
| 1/2″ | 12,000 lps |
| 9/16″ | 11,000 lps |